Episodes
Monday Oct 12, 2020
Monday Oct 12, 2020
As a child growing up in Western New York, with Mohawk cousins, the history and world of native American culture always fascinated me. The story of the native peoples of America speak through many voices – music, art, culture – but all too often are missing from the landscape of museums and historic sites.
Today's guest, G. Peter Jemison, is a renaissance figure in native culture, art, and heritage and also serves as the Historic Site Manager of Ganondagan State Historic Site, the location of a 17th-century Seneca town in Victor, NY.
On today's PreserveCast, we will explore the rich history of the Iroquois and learn how their heritage continues in the present.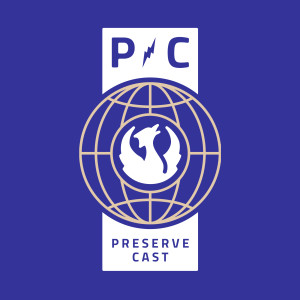 Tuesday Sep 08, 2020
Tuesday Sep 08, 2020
In a world where rational, scientific explanations are more available than ever, belief in the unprovable and irrational – in fringe – is on the rise: from Atlantis to aliens, from Flat Earth to the Loch Ness monster, the list goes on.
Enter Colin Dickey, Cultural Historian and Tour Guide of the Weird.
With the same curiosity and insight that made Ghostland a hit with readers and critics, Colin looks at what all fringe beliefs have in common, explaining that today's Illuminati is yesterday's Flat Earth: the attempt to find meaning in a world stripped of wonder.
On this week's PreserveCast things are about to get weird as we enter The Unidentified: Mythical Monsters, Alien Encounters, and Our Obsession with the Unexplained.
Monday Jan 08, 2018
Monday Jan 08, 2018
Often if we don't make a special effort to remember and tell the stories of individuals and groups within history, their contributions to our shared story can all too easily be forgotten. That is as true for Jewish-Americans as for any other group, and that is why Jerry Klinger founded the Jewish American Soceity for Historic Preservation. Jerry joined Nick to share some of the amazing stories he has learned of Jewish people throughout the country's history, as well as to share about projects coming in the future for his organization. This is PreserveCast.
Listen here: https://www.preservecast.org/2018/01/08/jerry-klinger-the-jewish-american-society-for-historic-preservation/